I have taken the liberty of placing this open letter on the internet. I will also create fliers and pass it out to members of the public. If your positions as judges have allowed you to believe that you are a law unto yourselves, and that the cries for justice from a victimized, disabled African American woman are unimportant, feel free not to read this letter, but know for a certainty that the public will eventually discover what 28 years of pleading, crying and being arrested by the U.S. government has proven to me -- that some of you -- as the U.S.' most powerful law enforcement personnel are not as committed to the war on terrorism as you pretend to be, and that you are therefore nothing more than judicial-robe-wearing hypocrites.
18 U.S.C §4 states the following regarding misprision of felony: "Whoever, having knowledge of the actual commission of a felony cognizable by a court of the United States, conceals and does not as soon as possible make known the same to some judge or other person in civil or military authority under the United States, shall be fined under this title or imprisoned not more than three years, or both." Based on this small but succinct statement, it is the job of a federal judge as a member of law enforcement to act immediately after having been apprised of a felony cognizable by a court of the United States.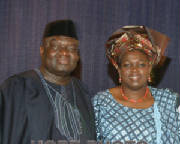 For the past 28 years, my husband, Nigerian Senator Ehigie Edobor Uzamere, while simultaneously using the fictitious name "Godwin Uzamere", entered various U.S. ports on several occasions, committing several federal and state felonies associated with the falsification of his identity. These included misrepresentation (to federal authorities), immigration fraud, marriage fraud, social security card fraud, bigamy, failure to pay child support, submitting a false instrument for filing (1st degree) and others.
While I did not know the law itself, I made several attempts to employ the spirit of the principle embodied in the aforesaid law by reporting Senator Uzamere's felonies. I first reported the crimes as a victim of a green-card-marriage scam between February 1980 and April 1980.
I filed my next complaint sometime in May 1980 with New York State Family Court Kings County. However, I was not able to obtain child support because of my husband's use of the fictitious name "Godwin Uzamere" on the marriage license.
I also applied for public assistance where I explained my situation to various municipal employees. Throughout my various attempts to apply for public assistance, including face-to-face recertifications, I always reported my husband's name as "Ehigie Uzamere." Strangely, for reasons unknown to me, no one employed by the New York City Human Resource Administration/Department of Social Services, ever compared the information contained in my marriage license regarding my husband with the U.S. Immigration and Naturalization Service and the municipal government never made an attempt to obtain the information from Allen E. Kaye, the attorney who sponsored my husband.
Whatever fueled the various governmental agencies' refusal to assist me, I did not have in my hand proof of my allegations that my husband had created a fictitious identity. However, by June 2008, I was able to force the New York City's Clerk's Office to give me a copy of the Affidavit for Application for License to Marry, on which my husband wrote the fictitious name "Godwin Uzamere" at the top of the application, but signed his real name at the bottom. The two-sided application also shows that while the bride was required to provide proof of her own identity, the groom was not required to provide any proof of his identity, and did not do so. However, even with tangible proof that my husband falsified his identity on a governmental form, no one from any municipal, State or federal agency would assist me.
It has been more than 28 years since I made my first attempt to apprise the federal, state and local governments about the crimes committed by my husband. After several arrests, at least one hospitalization forced on me by the Social Security Administration, a barrage of faxes and e-mails to various governmental entities and two federal lawsuits, even the most hard-headed judge (especially Judge Garaufis), should be able to see that the only thing that will end my demand for justice is a bullet.
Federal judges, state judges, attorneys who deal with immigrants and law enforcement personnel involved the immigration and naturalization service: You have no more time to make mistakes. Because of your laquidaisical approach to examining the veracity of immigrants' background before they come to the United States, the most famous landmark in New York City can now be called the "World Trade Center Canyon." Because immigration practitioners are so whorishly controlled by their lust for money, the U.S. Department of Justice's Executive Office for Immigration Review keeps an active list of disciplined immigration attorneys. Because some individuals in the immigration industry are not loyal to the needs of American citizens, there is an attorney preparing a lawsuit on behalf of American men who have been victimized by foreign spouses who use the federal government's Violence Against Women Act (VAWA) to expedite their green card sponsorship applications. Because of inconsistencies associated with the lack of enforcement of immigration law by federal judges, state judges and law enforcement personnel, there is a growing discontent among U.S. citizens regarding the virtually unfettered access that undocumented aliens have to the U.S. border.
As far as the immigration industry is concerned, many American citizens see federal judges, state judges and law enforcement personnel as abject failures. We have grown tired of watching justices who, instead of claim to uphold the law, disregard the law and squander the rights of Americans in an attempt to appease foreign interest groups.
As yourselves this: For all the brown-nosing that the immigration industry has done in the past to appease foreign interest groups, was it worth the destruction of the World Trade Center -- you know, the buildings that were destroyed by, among others, foreigners who obtained their green cards by marrying American citizens? Was it worth it?
The destruction of the World Trade Center by foreigners should serve as ample warning: American citizens will no longer take crap from you. If you want to flount your robe, step down and be a model. If not...DO YOUR DAMN JOB.