Individuals who believe in justice and the rule of law would be appalled to discover the existence of any ethnocentric culture that raises nepotism to the level of a religious obligation. While such a thing seems highly unlikely in a democratic society, such a thing does exist in New York City and threatens to tear at the fabric of New York City's government if not exposed. It has already succeeed in destroying my life and that of my children.
It may be a surprise to many individuals that the culture/religion to which Mayor Bloomberg belongs promulgates a doctrine that its members have a Talmudic responsibility not to report the unlawful acts of fellow members to Gentile authorities (Talmud: Tractate 'Abodah Zarah 26b: informers, and apostates may be cast in, and need not be brought up.'; Informing on Fellow Jews who Commit Crimes: "...the Talmud recounts - in a number of places - that it is prohibited to inform on Jews to the secular government, even when their conduct is a violation of secular law..."
I could never understand why, even with tangible proof of my allegations concerning my husband's immigration attorney Allen E. Kaye, why my complaints against him were ignored and why Mr. Kaye was able to get away with helping my husband to avoid paying child support for our baby daughter Tara. I faced the same situation with my husband's divorce attorney, Jack Gladstein. Paid by my husband to use the same fictitious name that he wrote on the Affidavit of Application for License to Marry, Mr. Gladstein was able to get away with sending me a letter with my husband fictitious first name, even though my husband paid him with a check using his real name. I submitted proof of Mr. Shapiro's act of fraud to the New York State Grievance Committee. Again, nothing happened to Mr. Shapiro; no one listened to me and the financial needs of my daughter were again ignored.
This is dangerous. New York City is run by a mayor who belongs to a religious group in which the members do not report the unlawful acts of fellow members to Gentile authorities. This religious wall of silence is so pervasive that other individuals who work for the City copy it. In such a horrible abuse of power, the primary victims of this immoral form of government will always be African-Americans, known by several members of the Mayor's ethnocentric group as "schvartzes."
In my sad case, certain members of my husband's immediate and extended family who were or are employees of the City of New York have successfully learned and are copying the same behavior as that of the Mayor and members of his cultural/religious order. By hiring attorneys and members of Mayor Bloomberg's religious order in various professional positions, any crimes or acts of injustice that I have reported against any member of Mayor Bloomberg's religious order has been ignored, as has the complaints against Senator Uzamere and other family members who have availed themselves of the professional services of members of Mayor Bloomberg's religious order.
Note the following:
Egheosa Uzamere: Based upon her defamatory statements, this municipal employee and cousin of my daughter instead chose to side with members of Senator Uzamere's family who are also municipal employees and hides Senator Uzamere's crimes of immigration fraud, bigamy and non-payment of child support. She has also been active in protecting Senator Uzamere's crimes by defaming my character on YouTube:
Egheosa's statement: "My name is Egheosa Uzamere the niece of senator Eghigie Uzamere one question I have for you is did you know that people go to jail for defamation of character. In america claims 28 years will not be acknowledged...And if you were really victimized how did you become PREGNANT? Explain? Anyway it has been fun and I mean fun because my family and I has had a ball of laughs on your expense yet again."
Egheosa's statement: "YOU ARE THE CRAZY BITCH, Nobody care about you jackass. I think you need to recieve professional help crazy. First of all how old are you grow up silly. Get the dollar signs out of your eyes cause you are not getting any of his money lunatic."
Egheosa's statement: "You just proved to everybody that you have a mental problem please seek professional help immediately. Its imperative that you take care of your mental health before you lose control of whats real and what is fantasy. You are not his wife maybe on paper but not the wife but not the way it counts."
As is the case with many high-level managers who receive jobs nepotistically based on their membership in Mayor Bloomberg's religious order, quite a few of Egheosa's family members are also municipal employees who, coincidentally, rely on and paid for legal and other professional services from members of Mayor Bloomberg's religious order.
Eugene Uzamere: Now in private practice, but formerly employed as an attorney for the New York City Department of Homeless Services who made judgments regarding the moral character of other attorneys. After I sent a letter to Mayor Bloomberg regarding my daughter's cousin's knowledge of the sordid situation between me and his uncle Ehigie, Mayor Bloomberg sent what turned out to be a useless letter to Eugene's supervisor, Clarke Bruno of the New York City Department of Homeless Services.
NYCDHS/Clarke Bruno's statement: ". . .the fact that. . .one of our husband's relatives is currently employed by DHS does not make it appropriate for this agency to pursue this matter.
Eugene Uzamere's statement: "Most of her commentaries are misguided and I won't give credence to them. She is basically crazy. I won't give credence to insanity. That is all I have to say. She is crazy."
"Does not make it approprite for this agency to pursue this matter???" Is the attorney who wrote this stupid letter out of his mind??? Any agency receiving federal funding has some nerve to make such a stupid comment. According to Title 18 of the United States Code, §4 states that "Whoever, having knowledge of the actual commission of a felony cognizable by a court of the United States, conceals and does not as soon as possible make known the same to some judge or other person in civil or military authority under the United States, shall be fined under this title or imprisoned not more than three years, or both."
Beside the fact that the word "whoever" mean any and everyone, this law would apply even more so to New York City employees. Why? Because the agencies for which they are employed receive federal funding.
One would logically think that agencies receiving federal funding would be required to obey federal law; however, it appears that those who belong to the Mayor's religious order, and those who have ingratiated themselves on those who belong to the Mayor's religious order by paying for their professional services are allowed to be disloyal to the entity that makes their salaries possible.
What to do? There are so many individuals in positions of political power who are also members of the Mayor's religious order that my family's victimization is nearly complete by this ethnocentric group's law. Additionally, the application of these religious laws violate my First Amendment right regarding a separation between church and state.
After 28 years of begging these individuals for help for myself and my child and getting nowhere, there is another doctrine that I learned about the Mayor's religious order that pretty much spells doom for my attempts to get justice for my family. You can read in the text of the Midrash Rabbah, page 293: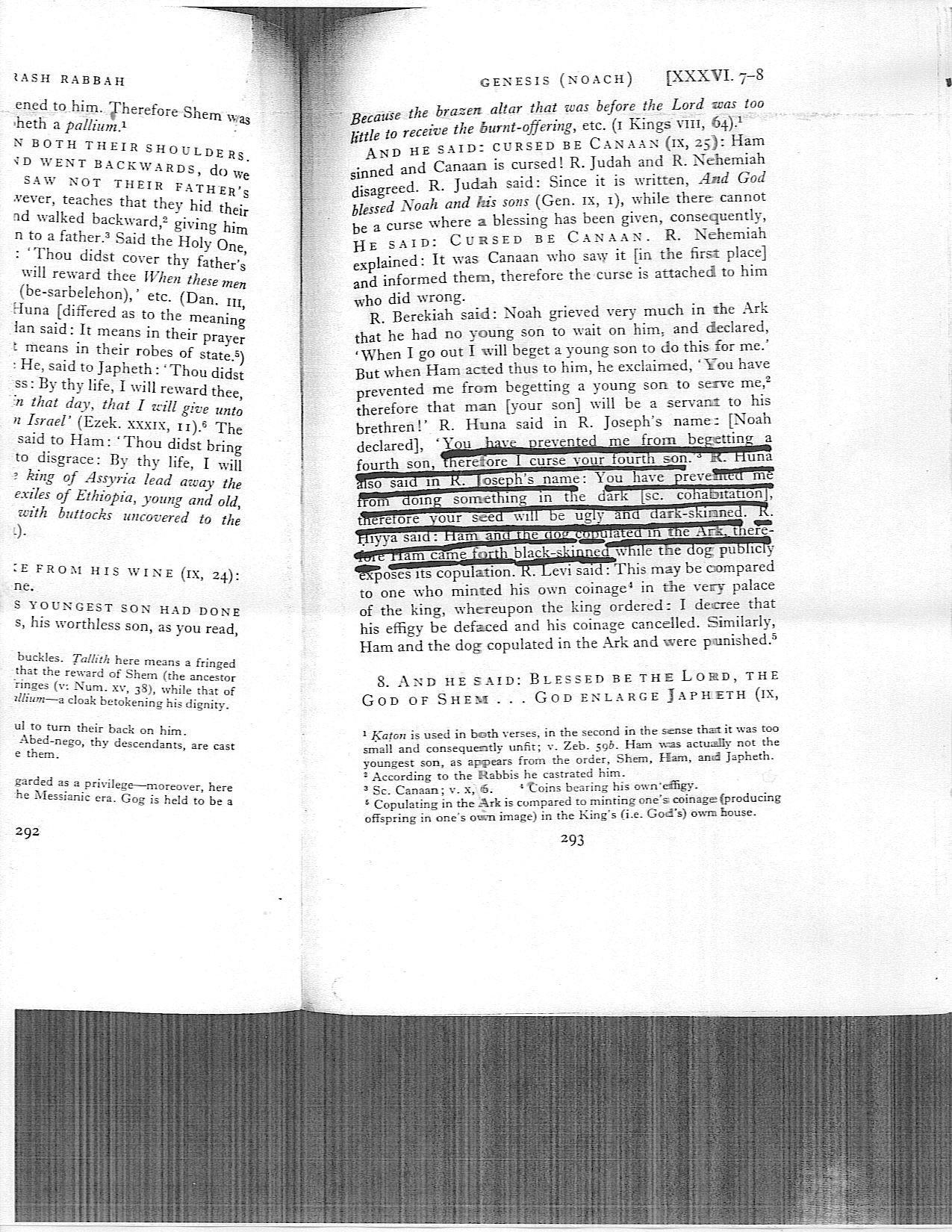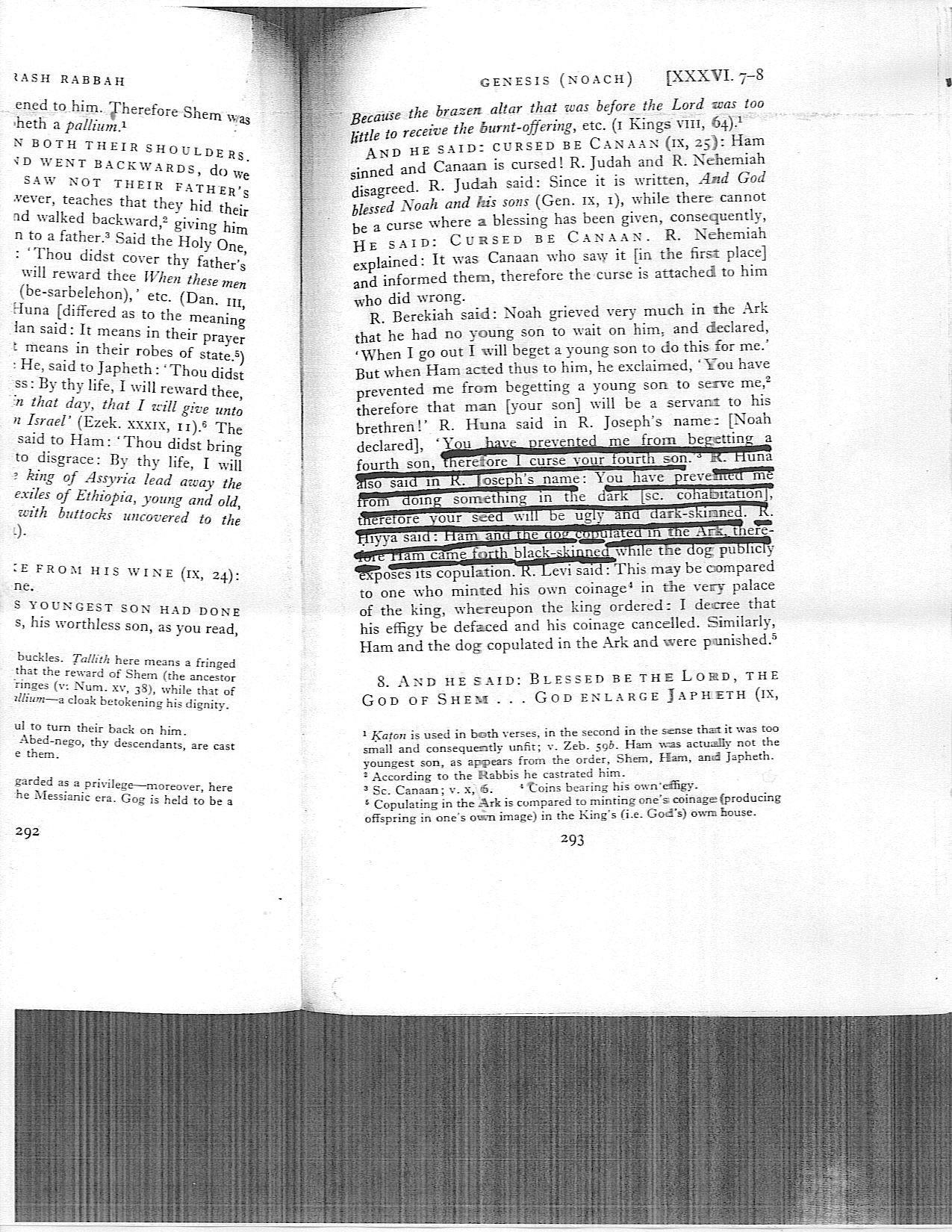 Yes, according to a doctrince associated with the Mayor's religion, black people are cursed. Simply put, black people have no rights that Jews are bound to respect -- even if a Jewish person breaks the law and violates the rights of schvartze, oops, I mean African-American.
I know that I am helpless. But if the Mayor and the rest of those powerful individuals, who, like the Uzameres, believe that nepotism should be used to avoid the consequence of violating the law, I have nothing to lose by letting the world know.
Perhaps one day, long after I am dead, a few lovers of justice will hear my cry and rally to end the worse abuse of the democratic process that exists in the United States once and for all.