To All Concerned:

This correspondence serves as a warning to any corrupt judge who may in future have the great misfortune of having me as a litigant.

If you violate the law, I will:
♦ File a federal lawsuit within a week of the commission of the crime (that will, based on my experience, be dismissed by Judge Garaufis);
♦ File a complaint of misconduct against Judge Garaufis;
♦ File an appeal which will be dismissed on behalf of another 2nd Circuit Ashkenazi judge;
♦ File a complaint of misconduct against the 2nd Circuit judge;
♦ Appeal the case before the U.S. Supreme Court;

♦ Publicize your picture and your illegal decision on my website.
My petition for a writ of certiorari to the U.S. Supreme Court will be completed within 3-7 days after my case is accepted by the Court of Appeals. Before you know it, the U.S. Supreme Court and the U.S. Department of Justice will have enough irrefutable evidence of New York State judiciary's corrupt practices to justify withholding federal funding until the State of New York makes serious changes to prevent its judges from rationalizing their criminal conduct by relying on the Talmud. 
While my expletive-laced complaint may be equated by corrupt members of the judiciary as an illegal ex parte communication, please realize that it is, in fact, the implementation of 18 U.S.C. §4, misprision and the implementation of my First Amendment right to "petition the government for a redress of grievances" regarding Justice Sunshine's crimes that amount to what Chief Justice Marshall referred to in Cohens v. Virginia, 19 U.S. 264, 403 as "treason to the Constitution (Sec. 4 ¶12)."
Now for "Justice" Sunshine...

Hey, Jeffie baby!
Before I verbalize my own opinions as to why my crystal ball sees you inside a jail cell servicing Big Bubba (

), let's first "marshal the evidence" (

) enumerated by those laws that make my allegations against you irrefutable:

U.S. Laws You Violated:

Fifth Amendment: "No person shall...be deprived of life, liberty, or property, without due process of law."

Fourteenth Amendment: "No State shall make or enforce any law which shall abridge the privileges or immunities of citizens of the United States; nor shall any State deprive any person of life, liberty, or property, without due process of law; nor deny to any person within its jurisdiction the equal protection of the laws.

18 U.S.C. §241 (Conspiracy against rights): "If two or more persons conspire to injure, oppress, threaten, or intimidate any person in any State, Territory, Commonwealth, Possession, or District in the free exercise or enjoyment of any right or privilege secured to him by the Constitution or laws of the United States, or because of his having so exercised the same...They shall be fined under this title or imprisoned not more than ten years, or both."

18 U.S.C. §242 (Deprivation of rights under color of law): "Whoever, under color of any law, statute, ordinance, regulation, or custom, willfully subjects any person in any State, Territory, Commonwealth, Possession, or District to the deprivation of any rights, privileges, or immunities secured or protected by the Constitution or laws of the United States...shall be fined under this title or imprisoned not more than one year, or both."

Bulloch v. United States, 763 F.2d 1115, 1121 (10th Cir. 1985) (Fraud upon the court): "Whenever any officer of the court commits fraud during a proceeding in the court, he/she is engaged in "fraud upon the court...Fraud upon the court is fraud which is directed to the judicial machinery itself and is not fraud between the parties or fraudulent documents, false statements or perjury. ... It is where the court or a member is corrupted or influenced or influence is attempted or where the judge has not performed his judicial function --- thus where the impartial functions of the court have been directly corrupted."

Kenner v. C.I.R., 387 F.3d 689 (1968) (Fraud upon the court): "has been defined by the 7th Circuit Court of Appeals to "embrace that species of fraud which does, or attempts to, defile the court itself, or is a fraud perpetrated by officers of the court so that the judicial machinery can not perform in the usual manner its impartial task of adjudging cases that are presented for adjudication." The 7th Circuit further stated "a decision produced by fraud upon the court is not in essence a decision at all, and never becomes final...Fraud upon the court makes void the orders and judgments of that court... Under...Federal law, when any officer of the court has committed "fraud upon the court", the orders and judgment of that court are void, of no legal force or effect."

New York State Law:

Default Judgment:

CPLR §3215. Default judgment. (a) Default and entry. When a defendant has failed to appear, plead or proceed to trial of an action reached and called for trial, or when the court orders a dismissal for any other neglect to proceed, the plaintiff may seek a default judgment against him.

NYCRR §202.27. At any scheduled call of a calendar or at any conference, if all parties do not appear and proceed or announce their readiness to proceed immediately or subject to the engagement of counsel, the judge may note the default on the record and enter an order as follows: (a) If the plaintiff appears but the defendant does not, the judge may grant judgment by default or order an inquest.

Preliminary Conference

NYCRR §202.16(f)(1)(b). Both parties personally must be present in court at the time of the conference, and the judge personally shall address the parties at some time during the conference.

Your Illegal Arguments (which I attached):

On Page 2 of your Memorandum and Order dated September 8, 2009, your stated that
"the defendant failed to interpose an answer before Justice Prus."
However, you go on to say that
"Eugene Uzamere, Esq., did appear before Justice Prus of this court at a preliminary conference that was held on September 2, 2008."
Really, Jeffie? Let's examine that, shall we?
According to Page 9 of your Decision and Order dated January 12, 2009, you said that
"...he (defendant) has submitted opposition to plaintiff's motion for spousal and child support, has filed his own motion to dismiss...and has participated (through his attorney) in a preliminary conference...moreover, the opposition submitted by defendant raises a genuine issue as to whether or not plaintiff and defendant were married in the first instance."
First, Jeffie, dear, you "forgot" to mention (

) that the preliminary conference held on September 2, 2008 was the second preliminary conference that the defendant did not attend. The defendant was also a no-show on the first preliminary conference that was held on December 5, 2007.
Now that we've cleared away that little item, I have a few more questions for you Jeffie: In what capacity did the defendant participate -- as my husband, or as my husband's cousin? Do you equate the no-show defendant's attorney's submission of his client's falsified opposition to dismiss the entire divorce action based on his fraudulent claim of not being married to me participation??? What kind of dumb-ass logic is that?
According to Eugene Uzamere's ridiculous rendition , the defendant's cousin states the following:
"That the plaintiff's claim that she married my cousin is an outrageous and heinous lie. I was the one who married and ran away from her."
However, in your Decision and Order dated May 12, 2009, you stated that
"...defendant's motion to dismiss this action on the grounds that he is not the husband is dismissed in its entirety. The defendant is the husband in conformity with the parties' marriage on November 21, 1979."
Do you know what that means, Jeffie, baby??? It means that even if the Appellate Division could accept your dumb-ass rendition of Eugene Uzamere being present in place of the defendant, the Appellate Division could not accept his testimony because based on your own decision, the defendant perjured himself ("through his attorney", hah hah hah hah!!!)
Oh, yeah, Jeffie...just an afterthought: Why did you not have Eugene Uzamere arrested for perjury since he offered false testimony on behalf of the defendant at the second preliminary conference?
Boy, Jeffie! You're dumber than dirt! Considering all the bullshit you spewed on Page 2 alone, does the Appellate Division need to read through the other 23 pages of bullshit??? They'd probably laugh themselves to death -- and vomit their guts out in the process if they read that stupid shit!!!
Jeffie, you are not a judge...you are a stupid bitch wearing a black muumuu with sleeves.
Jeffie, because of your arrogant, Talmud-oriented, male chauvanistic stupidity, I predict that I will get every penny of the $20,000,000.00 I requested because I now have irrefutable proof that my husband cruelly and inhumanly employed the willing assistance of idiots like you to violate the law from the time I met him until the very last day of our 30-year crime-of-a-marriage. After all, the court has a legal obligation to consider the egregiousness of the guilty spouse's acts against the innocent spouse.
Do you believe that you are entitled to behave this way because you are an Ashkenazi male? Or, did you delude yourself into believing that I would figure out that your last two decisions were secret attempts to negotiate with me if I were willing to end my onslaught?
While you are senselessly writhing in the death throes of your career-and-reputation-ending battle with me, remember two things: 1) I do not negotiate with judiciary terrorists, nor do I negotiate with criminals for that which the law says belongs to me; and, 2) once I penetrate the skin that lies between my fangs and your carotid, I do not let go.
This battle is to the death.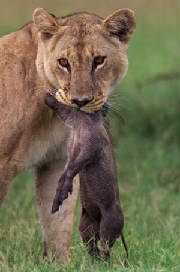 I am not prey. I am predator...
"Hell hath no fury like a woman scorned"